MCDC News
Tuesday, November 28, 2017 - 10:15am
Join us this Thursday at 4:45pm in front of Building 4200 for the Annual MSFC Tree Lighting. Our preschoolers will be singing Jingle Bells, Rudolph and We Wish You A Merry Christmas! There will be a visit by Santa as well as hot chocolate and cookies. Hope to see you there!
Friday, November 17, 2017 - 4:00pm
Fellow MCDC parents,
Thanks to everyone who was able to come out and enjoy the Thanksgiving lunch with us.  And a special thank you to everyone who stopped by to cast a vote on the budget.  I'm happy to say that the proposed budget passed and will be implemented for the upcoming year.  This will allow us to continue the high level of care our children receive and help us retain and recruit great staff by bringing our pay rates in-line with state averages.  If anyone has any follow up questions, please feel free to contact me.
New Tuition Rates Effective January 1, 2018:
Infants                 $229
Creepers             $220
Toddlers              $213
Explorers             $208
Pre C                   $201
Pre B & A             $200
Regards,
Brian Mulac
MCDC Board President
Monday, November 13, 2017 - 4:30pm
November 16th will be a busy day around here!
We will start with the 2018 Budget Vote that will take place in my office from 10:30am-11:00am.  Please stop by, ask any questions you may have, and cast your vote.  The Board of Directors will be sending out the proposed budget for you to review.
At 11:00am, join us for our annual Thanksgiving Lunch!  MCDC will be providing the paper products, turkey and drinks.  Please sign up by close of business tomorrow, Tuesday Nov 15th on the sign-up sheet located on the front desk in the lobby.  Please indicate how many adults will be in attendance and the side dish or dessert that you will be bringing.
All of the food will be set up in the cafeteria.  Please remember to bring a serving utensil.  We will not have the ability to warm any items, so please bring them with you, or in a container that will keep them warm.  You may take your dish when you leave after the luncheon.
When arriving for the luncheon, parking will be limited to the car pool spaces out front and the medical center parking lot.  Do not park on any of the grass or curbs in front of our building.  The 20 minute spots need to stay open for those that need to pick up or drop off children.
Please do not go to your child's classroom until after you have fixed your plate in the cafeteria.  The children will be served as they normally are from the kitchen and will be ready for you when you arrive with your food.
We look forward to this time with our families!!
Monday, November 6, 2017 - 2:45pm
Portraits with Spoiled Rotten Photography are this week; Tuesday, Wednesday and Thursday.  If you signed up for pictures and have not received an email from me, please let me know. 
We will be closed this Friday in observance of Veteran's Day.
Thursday November 16th is our Budget Vote and Thanksgiving Lunch.  The vote will take place in my office rm104, from 10:30am-11:00am.  The Thanksgiving Lunch will begin at 11:00am.  MCDC will be providing the turkey, paper products, and drinks.  Please sign up for a side dish or dessert on the sign-up sheet located on the ledge of the front desk.  Please also indicate how many adults will be in attendance.  Friends and family are welcome!!
We will be placing sheets on your child's sign in/out sheets for the Thanksgiving holiday week.  Please indicate on these sheets what days during that holiday week you expect your children to be absent.  The only day we are closed is Thanksgiving Day.  This will just give us an idea of how many staff members we will need each day.  Please do not in any way feel obligated to keep your child out any of the days during this week.  We always have children here each day of that week.  And we love it!!
Have a great week! 
Monday, October 30, 2017 - 2:45pm
 MCDC Families!  Don't miss this opportunity to have a beautiful portrait created!
Sign up by Wed. Nov 1st!
More info and sign up:  https://spoiledrottenphotography.com/mcdcfall17/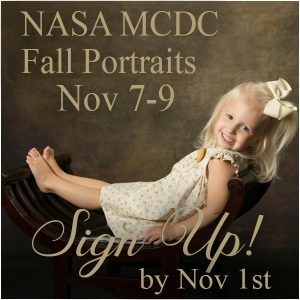 Warmest Regards,
Melissa
We believe each child is beautiful with a unique spirit!  We want to create a beautiful authentic  portrait for families to cherish forever!
Melissa Tash
www.SpoiledRottenPhoto.com
Melissa@SpoiledRottenPhoto.com
256-829-8275   
Thursday, October 26, 2017 - 5:15pm
Spoiled Rotten Photography will be here November 7th, 8th and 9th for our fall portraits.  You must sign your child up by November 1st  if you would like them to be photographed.  If you have any scheduling issues that you need worked around, I need to know those asap.  Once the schedule is set, it is very hard to make changes. You may send in your child's outfit and we will change them for their pictures.  We will only have time for one outfit per child, so please just send in one outfit.  If you have any special instructions for your child the day of pictures, please leave a note with their outfit.  This is very important as the picture days can be very hectic.  Do not give your child's teacher any verbal instructions. Everything must be in writing.  I will send out an email letting you know what day your child will be photographed.  I will not be able to give you a time, just the day.  We start with the infants and work our way up.  In order to keep with the schedule and avoid any separation issues, we ask that parents are not present for the photographs.  The children do much better if they do not have to leave mom or dad.
Sign up by November 1st at: https://www.ezgophoto.com/index.php?EventId=1227&FranchiseeId=1
The Belk Charity Sale is Saturday November 4th from 6am-10am. We have tickets for sale!  $5 each and all proceeds go directly to MCDC!  Contact anyone in the front office for purchase.  You may also take some tickets to sell to friends, family and co-workers.
Volunteers Needed!
 We have a new rocking chair that is in the front lobby.  We need a volunteer to assemble this rocking chair for the Creeper B classroom.  We have all tools that will be needed.
We have several wooden benches on our preschool playground that need to be sanded and repainted. (or thrown out if can't be salvaged)
We need the two plastic sheds on the preschool playground to be cleaned out and pressure washed.
Any help is appreciated!!
Don't forget, if you would like text reminders and announcements, please text @mcdcf to 81010!  
Thursday, October 19, 2017 - 4:15pm
The Usborne Books and More Book Fair will be ending today.  If you did not have a chance to stop by, you can still order online at https://f4080.myubam.com/825035.  Don't forget to click ship with organization!  I can't wait to find out how many free books we have earned!!  Thank you so much for your support!
I misspoke earlier in the week!  Today is the last day to order a kit from Wildtree for our workshop on October 25th!  So it's not too late!!!  Sign up now!
https://docs.google.com/forms/d/e/1FAIpQLSfBnqs85eUzO-y9ruCWUhO1Haw9I29GTsWuPa4TxT5-HQ9CBA/viewform?c=0&w=1
We almost have everything ready for our Fall Festival tomorrow from 5:30pm-7:00pm!  We are still in need of cake (or goodies) donations for our cake walk.  You can bring them to anyone in the front office or bring them to the Fall Festival.  Attached is a flyer with all of the fun activities we have planned!
There is no cost for the festival, but we will have be taking donations and will have the Belk charity sale tickets for purchase.  Soccer Shots will also be right outside to show you some great soccer moves and they will have giveaways!!
Whew!!  What a week! 
Tuesday, October 17, 2017 - 8:15am
Wednesday, October 11, 2017 - 3:00pm
Pinot's Palette
Join us on Tuesday night October 17th from 7pm-9pm at Pinot's Palette in Providence.  You may bring your own food or snacks to keep you energized while you are being creative!
Proceeds from each participant will go directly to MCDC! The cost is $35.00 and you can sign up at:
https://www.pinotspalette.com/huntsville/event/185146
Usborne Books and More Book Fair
Wednesday October 18th and Thursday October 19th, we will have Kate Pokemire here with her books from Usborne Books and More set up in our library.  You may stop by anytime during the day to purchase books.  The teachers will have wish lists for books they would like for their classrooms.  You may also send in money with your child for the book fair, and we will take them shopping!  You will also have the option of ordering online!  MCDC will receive 50%of the proceeds to purchase even more books!!  Christmas is just around the corner and books make the best gifts!!
Fall Festival
Our Annual Fall festival is Friday october 20th from 5:30pm-7:00pm in the Activities building 4316 on Digney road.  Friends and family are welcome!  We will be serving hot dogs, chips, popcorn, and snow cones.  We will have two bounce houses; one for children 2 and under and one for children ages 3 and up.  Costumes are welcome!  We will also have lots of other fun activities!  One activity that we will need your help with is our cake walk.  We will be taking donations of cakes, cookies, etc…. the more the better!  You may drop them off in the front offices prior to the fall festival.
Wildtree Workshop
Our next Wildtree Workshop will be on Wednesday October 25th from 3:45pm-5:45pm in the cafeteria.  You may stop by anytime to prepare your meals.  The process of putting your meals together should take no longer than one hour.  A separate email will be sent out with the options of meal bundles to purchase.  This has been a game changer at my house!!  I dreaded the prep work (which really didn't take that long)but having meals ready to just pop in the crockpot was so convenient!  I will definitely be doing another bundle this month.  Remember, proceeds from these workshops go to purchasing Wildtree products for our kitchen.
Belk Charity Tickets
We have Belk Charity Tickets for sale!  $5.00 per ticket and 100% of the proceeds go to MCDC!  The Charity Sale will take place on Saturday November 4th from 6-10am.  You may take some tickets with you to sell at church, boy scouts, in your neighborhood, etc….  Just ask one of the ladies up front!  If writing a check, those can be made payable to MCDC.
The Great Diaper Drive
As parents, we know how important clean diapers are to the health and happiness of our babies.  If you would like to participate, please donate new packs of diapers and wiptes in the box located in the front lobby of MCDC by Tuesday October 17th.  Diapers of all sizes are needed!!  If you have any questions, please contact Afreekia Stillwater at afreekia@gmail.com.  The Northern Alabama Food Bank will distribute the collected diapers and provide year-around assistance.
Monday, September 18, 2017 - 10:45am
MCDC Parents:
We had an unannounced Full Evacuation Drill this morning.  This included Fire, Safety, and Hemsi.  Everyone got out well and everyone is accounted for.
In a Full Evacuation Drill, we evacuate the building and meet on top of the grassy hill.  We account for everyone and wait for instruction.  We were then instructed to walk over to the Activities Building.  This is our secondary evacuation meeting and holding place.
In the event of true emergency where we had to evacuate, you would be notified by phone call and instructed when you could pick up your child from the activities building.  This is one of the reasons it is very important to make sure we have your latest contact information and that your child is signed in and out each day with a legible signature.
We did have one of the wheels on an evacuation bed come loose.  If we had a dad who has a quick moment this morning to repair this wheel, we would be very grateful!  Thank you!
Please let me know if you have any questions.
Pages